The Fun Outdoors – Local Activities
Spectacular outdoor adventures await the traveller of any age. The natural beauty and solitude beckon to all whether that be on land or at sea.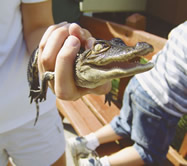 Explore nature on land by:-
1. Viewing alligators and other wildlife in their natural habitat on a fun swamp buggy tour
2. Hiking in one of the local state parks
3. Biking down Banyan Street in Boca Grande
Babcock Wilderness Adventures
If you wish to experience the thrill of meeting panthers, Florida cracker cattle, native birds and dozens of wild alligators face to face, then the Babcock Wilderness Adventures tour is a must see natural attraction.
Specially built swamp buggies enable visitors to see a side of Florida that is vanishing rapidly. A professional tour guide completes the experience with commentaries on the wildlife.
Geocaching
Try your hand at the new craze sweeping the world – Geocaching.
This is a high-tech treasure hunting game played throughout the world by adventure seekers equipped with GPS devices.  The basic idea is to locate hidden containers, called geocaches, outdoors and then share your experiences online. Geocaching is enjoyed by people from all age groups, with a strong sense of community and support for the environment.  For their website and to see where the Rotonda's hidden treasures are located click Geocoaching and enter the Zip Code of 33947.
Rotonda Community Park
The 32-acre Rotonda Community Park is located in the centre of Rotonda West and is within a short walk of our villa.
The park includes a multi-purpose sports field, two tennis courts, picnic pavilion and restroom facilities. In addition, a bike path will snake its way through the park's nature preserve.
Take a Turtle Walk!
The highest concentration of sea turtle nests in the state of Florida is on Manasota Key.
Ranger led turtle walks are held throughout the summer months along Stump Pass Beach. Call (941) 964-0375 for details. So cute!
Hunt for Sharks Teeth (yes really!)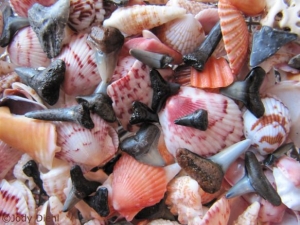 Kids will love hunting on the beach for real shark teeth.
Best local beach is Englewood.
Great fun for all and make super free souvenirs!