With more than 30 courses in the area, ranging from executive to championship level, you can easily tell why they call it Golfers Paradise.
You certainly will have no problem finding a place to practice your swing.
The villa is a 5 minute drive from 5 local golf clubs however the closest one is Long Marsh Golf Club.
Long Marsh
Rotonda Circle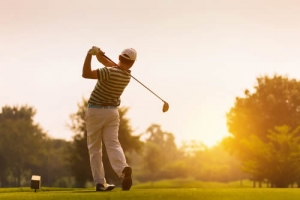 Long Marsh's gently rolling fairways meander thoughtfully through 300 acres of natural Florida scrub, its fairways and green invitingly framed by an abundance of stately oaks, native pines and palms. Natural waste bunkers, marshes and lakes provide a challenge for golfers as well as a haven for a variety of wildlife.
Measuring 7,120 yards from the tips, the course can be daunting, but four sets of tees, a minimal use of bunkers and strategically placed mounding provides a friendly game for all levels.
The signature holes on this demanding course are, like Riverwood, the final three holes on the front nine. The seventh is a long straight par four with not much trouble. It is a straight forward hole, but into the prevailing wind, it's a lot harder than it looks. The eighth is one of the toughest par threes in southwest Florida, and, at about 240 yards, is one of the longest. This requires a good hit with your longest iron or a fairway wood.
Don't get roped into thinking you've hit a good shot until the ball lands, however, because it is a shallow green and very hard to hold with the type of club being hit in there. The ninth is a 90 degree dog leg to the right with water on both sides of the fairway. It is crucial to pick the right club because if you are long or short you will be in the water. The second shot, however, is a lot easier with only a waste bunker that is in play. The funny thing about this hole is the local rule placed on it. There is a house on the short side of the fairway and even if the ball heads over the out of bounds stake and comes back into play, that is still deemed as out of bounds to protect the house from being peppered with errand tee shots.
Rotonda Golf & County Club
The Rotonda Golf & Country Club comprises of 3 exceptional golf courses:
the Palms
the Links
the Hills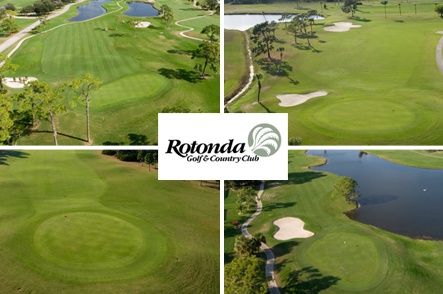 The club offers complete practice facilities including full length driving ranges, practice putting greens, chipping greens and bunkers and 54 Holes to choose from that challenge all skill levels.
It has been awarded a 'Beginner Friendly Certification' from the National Golf Course Owners Association, as well as the Charlotte Sun Herald's Reader's Choice award for being the best course in Charlotte County.
The Palms
266B Rotonda Circle, Rotonda, Florida 33947
Rotonda's second 18-Hole, semi-private, par 72 championship course. Golfer's are astounded by the 5 finishing holes, which include six different water hazards, multi-tiered greens, and two of Florida's most demanding holes, the 15th and 16th back to back. This course is well designed with four sets of tees that challenge all skill levels.
The Palms is the longest and most challenging of the three Rotonda courses, incorporating tight fairways with many water hazards and very tough, fast greens. Almost every hole has some sort of water feature making shot selection essential. The two holes which stand out are the sixth and the seventh. They are both short par fours which can be reached in one with the longer, more accurate hitters, but beware that there are many dangers for those who don't hit the green.
The Links
4055 Cape Haze Drive, Rotonda West, Florida 33947
The Links is an 18 hole, semi-private executive length golf course, designed by Ted Mcanlis in the Cape Haze community. Water comprises 35 of the 80 acres of land with an assortment of grassy hollows, pot bunkers, multi-fingered sand traps and triple tiered greens to force players to use precise club selection and exacting skills.
The Links is a municipal course with a par of 63. It doesn't have any par fives and only a handful of par fours, but don't let that fool you because this course plays harder than it looks. It is a very tight course which requires strategic iron play to set up birdie chances.
The Hills
100 Rotonda Circle, Rotonda, Florida 33947
The Hills was the first 18 Hole, semi-private, par 72 championship course located within the Oakland Hills Community on Rotonda. This course is heavily dotted with well placed water hazards, it is a true test of accuracy and course management skills.
The Hills is the most forgiving of the three courses with wide fairways and relatively easy greens in most cases, but as with the others, there is still a lot of trouble for those who don't manage to keep shots in play.